Happy Accidents and Life Lessons
Growing up I didn't have much, and by the time I was 13, I was a ward of the state. From that point on I lived in many different situations, some amazing and some not, but I knew that one day I would have my own home and be able to make it my home… that involved having a garden, growing veggies and flowers, but I didn't count on getting a lesson from my own garden.

Our Tulips
One day in January, my husband and I walked into Lowes and saw they had tons of bulbs on sale. It was a warm January, the ground wasn't even frozen. After talking to the lawn care worker, we decided to buy all of the tulips and daffodils that they had. Most of the tulips were red, yellow, pink, and white… though we were able to grab one bunch of purple tulips.
We spent 4 days planting them into our front yard. We had no idea what we were doing, however, we followed the instructions, we buried them at the right depth, and we added some Bone Meal with each bulb.
PS. This post has some affiliate links, read more about those here.
They Actually Grew
That first year we were so surprised at what we saw. There were so many flowers, we were so proud! We loved them! They made everyone smile when they walked by and we just loved driving up to them. We got so many compliments. The next year they grew up beautifully again, but we noticed something, people began picking them.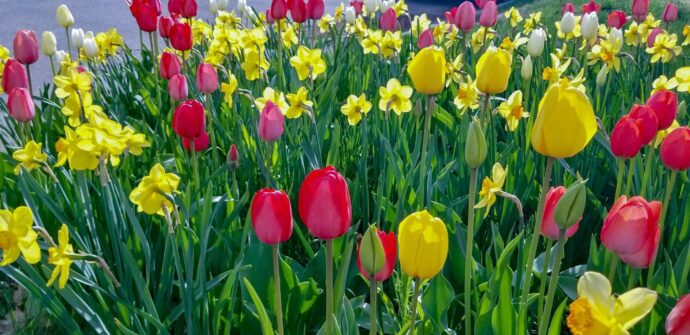 At first, I was ok with it. The flowers were beautiful, so of course people would want them, but by the third year, I had become very defensive of the flowers. I planted them because I wanted to provide this crazy world (and my family) with something beautiful to look at, even if only for a short while, but I didn't plant them for people to take. I will admit it frustrated me that people would take like this. 
I didn't allow this to consume me… I wasn't chasing people off with a broom, though there were a few times I wanted to let my inner old lady out, but it troubled me… that is until I realized how freeing it is to love and let go!
Happy Accident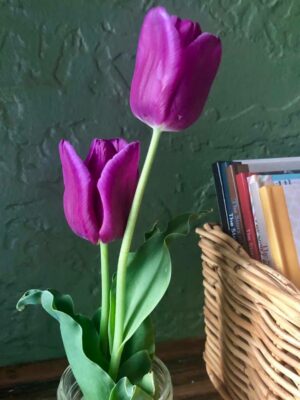 Very recently, my boys were bouncing a basketball and it fell on a couple of the purple tulips. They brought them in, put them in some water, and left them for me. I really enjoyed having flowers from the garden inside, and while many people plant flowers for this very reason, it had never occurred to me to actually clip some for our family.
It was then I realized why some people pick our flowers… the flowers were something bright in a world that is often not. They were fresh and beautiful, and if they made me smile, I can only imagine that they would do the same for others. 
My Lesson
We planted these to enjoy and to spread smiles to others… and that is exactly what they were doing… so why be upset? No, it isn't ok to take flowers from people's gardens, but as individuals, we need to realize that not only are we unable to control what others do, we rarely know what others are truly going through. 
The broken purple tulips brightened my day, a day that was just a regular day, so if someone needs one to turn their not-so-good day around… so be it, and if it isn't for that, then so be it. It was freeing to just let go.
I learned another lesson… it's ok to thoroughly enjoy the fruits of your work. So, next year I might clip a few from the garden for myself! I'm glad the boys showed me that… even if it was an accident!
Spread some love today!
BEM + Fam 🙂