St. Patrick's Day Digits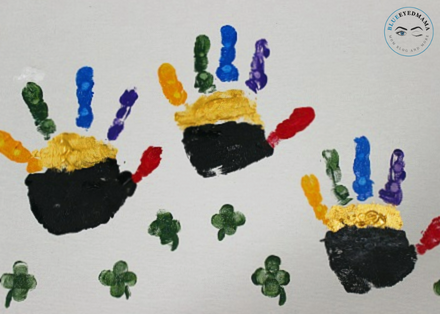 Looking for a cute way to make a memory with your littles this St. Patrick's Day… try these little pots of gold!
Little hands grow up fast and what a better way to make a memory and a holiday craft, than these cute handprints! It is super easy and will be fun to bring out every year to showcase for St. Patrick's Day!
I made these with my kiddos years ago and I still love them!
What You'll Need
Grab some rainbow colored paint, black paint, metallic gold paint, paint brushes, a canvas (or even paper), a paint tray or even a plate, some water, and paper towels.

Directions: 
Set up some water and paper towels before you get started, maybe even a sheet or 2 of newspaper, depending on where you are working.

Get your canvas or paper ready.

Put some paint out on the plate or palate of each color. It is easier to do this now vs one at a time, while trying to hold a squirmy kiddo with paint on their hands.

Now, get to painting! This might be easier with a helper, but it can be done alone. My kiddos LOVED this party. It was fun for them. It tickled and could easily be considered sensory play, though on the other side of that, some kiddos might not like how it feels… so maybe just let them know that the action will have a feeling.

I painted the gold, next the black, and then the fingers. It seemed the paint on the fingers wanted to dry quicker and so I painted those last.

After the hand it painted, gently push onto the canvas and paper.

Allow to dry, clean up… and viola!
We did had some fingerprint shamrocks to ours and I did all three of my kid's handprints on one canvas, but you can do it however you'd prefer. Just enjoy the moment!
Ideas…
Set up another canvas to allow them to "wipe" off the paint from their hand while creating another piece of artwork.
For older kids, have them place their hands and then with their fingers, individually after picking their hand off the canvas, trace the excess paint in a trail to create a rainbow.
Do the right and left hands on each side of the canvas and make a rainbow arch in between.
Make these for you and grandparents… or other family members. 
Include this on a blank card to create a lovely card for family.
Mainly, have some fun on a March afternoon!

Make a Memory
It's funny, I remember the day we did these. My youngest, who is pictured above, was 3. That is almost a decade ago! I remember that my kitchen was a mess and I was feeling a bit down that day, but I remember seeing his smile and realizing that he was really just enjoying the time together. He didn't care about the mess, he was just having fun, and it became a sweet memory.
Take these moments, even in the little things.
Happy St. Patrick's Day… and if you want see some more St. Patty's Day ideas… check here!
BEM and Fam 🙂

PS. This post has some affiliate links, read more about those here.