Rosemary Pickled Green Cherry Tomatoes for Antipasto
It's That Time of Year Again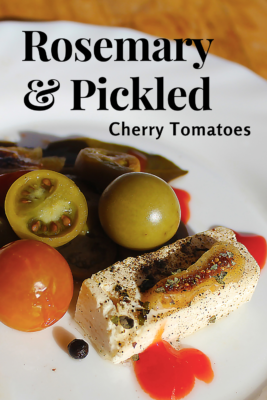 In the Midwest, there is a 5th season, and no I am not talking about 3rd winter, it's canning season! Anyone with a garden has been canning off and on, for months now. This year, we had a warm fall. I had tomatoes trying to ripen on the vine at Halloween, however, that first week in November, we got a frost… and the plants were done. I sent the kids out to pick the tomatoes, red and green… and the last of watermelon. I'll be the only family serving watermelon at Thanksgiving. Anyway, I don't let the green tomatoes go to waste and usually can them too. I decided to use the cherry tomatoes, both red and green, to make a recipe given to me by a "canning buddy" (and if you're a canner, you know what I mean by canning buddy). 
Canning green tomatoes isn't different than canning red, and though the flavor is unique, they really are good… and great way to use leftover green tomatoes. The difference I find with green tomatoes is that they are harder to peel (for the recipes that call for peeling) and the taste is just slightly more tangy. These things are easy to combat and in the recipe I set out to make, neither of those things would be an issue.
Canning
If you have never canned before, do take a minute to read up on it. Canning is a safe technique used to preserve food. There are different methods of canning, water bath canning and pressure canning, and which one to use has a lot to do with what is being canned. 
Canning is safe and the food after canning is good, however, some things need to take place during the canning process to ensure that the food was canned properly. While super rare, there are instances that people get ill after eating homemade, canned food. I don't say this to alarm people, because truth is… there are even more cases where people get ill after eating at restaurants or food from the grocery, but I want to make sure anyone that hasn't canned before, learns a bit about it… before jumping in.

This post has some affiliate links, read more about those here.
Rosemary Pickled Green Cherry Tomatoes
I decided to make Rosemary Pickled Cherry Tomatoes, with mostly green tomatoes. This is something you would put out with a meat and cheese tray or as Antipasto. These tomatoes are tart but scrumptious… and different. These aren't something everyone has had before or would bring to a party.
I will say these have a salt and vinegar taste to them, which I love… but they aren't for everyone, however, you'll never know until you try!
What You'll Need
To can these, you will need a water canner, mason jars, new lids, rings, cherry tomatoes (though others will work), salt, vinegar, garlic, and rosemary. The exact recipe is below.
Processing is only 10 minutes, which is quick!
As I said, these are great as Antipasto and below, on the printable recipe… I included instructions on how to add these onto an Antipasto platter.
Have fun canning… Pin this for later and don't forget to comment about how they turned out share what you do with all of your green tomatoes!
BEM and Fam 🙂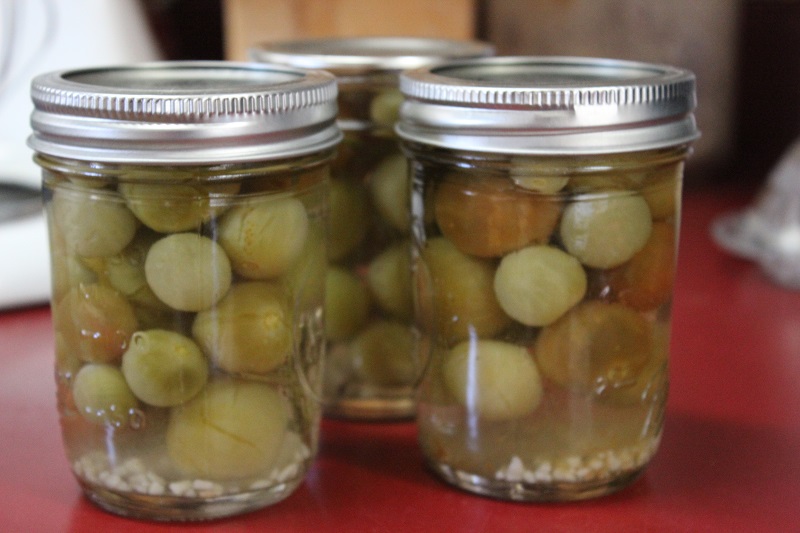 Rosemary Pickled Green Cherry Tomatoes
Ingredients
To Can Tomatoes
1

quart

cherry tomatoes (green, red, or both)

can be other small tomatoes, grape, pear, and so on

1

tsp

salt

2

cups

vinegar

4

cloves of garlic

or equivalent minced

4

sprigs of fresh rosemary
To Use As Antipasto
½

pint

jar of rosemary pickled cherry tomatoes

½

cup

olive oil

½

tsp

minced fresh oregano

½

tsp

minced fresh rosemary

½

tsp

minced fresh thyme 

¼

tsp

kosher salt

¼

tsp

fresh cracked pepper
Instructions
Canning
combine salt, vinegar in a saucepan and boil, reduce heat and simmer for about 10 minutes. While boiling, prick each tomato to stop the skins from cracking open

pack garlic, rosemary and tomatoes into sterilized jars and then ladle the vinegar mixture into jars
Antipasto
drain the liquid from the can of tomatoes into a mixing bowl

 combine liquid with olive oil, minced fresh oregano, rosemary and thyme and kosher salt and fresh cracked pepper

once mixed, add the drained tomatoes, stirring to coat and refrigerate overnight. 

add to a platter (you can drain or add as bowl with liquid and add a slotted spoon) with other items, like cheese, meats, pickles, and so on
Recipe Notes
This recipe makes about a quart, which you can can how you'd like. If you want to make a lot and have a lot of tomatoes, this recipe can be doubled and tripled to can in quarts. You could can in pints too but if you don't have many or don't think you will use them often... I'd just can in half pint jars.