Fun Way for Arctic Play!
While exploring the arctic with the kids, for our Canada unit, we decided to make some arctic snow dough. Snow dough is all over Pinterest, as are other types of doughs and slimes, so we found a basic recipe and decided to add glitter to ours. Glitter is not necessary but does add a little something to it!
What You'll Need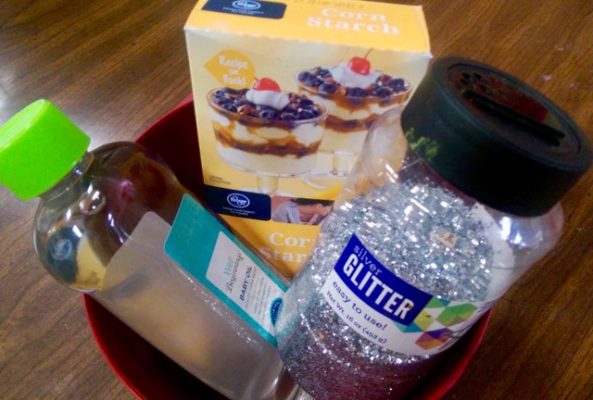 Making this is quite simple and you'll only need some cornstarch or corn flour (UK), baby oil, and white glitter.
The baby oil will help this smell amazing, however, if you think your little one will put this in their mouth, use vegetable oil, baby oil should not be ingested. I would also omit the glitter if your child is small. Cornstarch and vegetable oil is completely safe to consume, should some get in your little one's mouth, glitter and baby oil, not so much!
Making Your Snow Dough
Measure the following… 2 cups cornstarch, 1/3-1/2 cups oil, and 3-4 Tbsp of glitter. Mix together, start with the 3rd cup and if you don't like the feel, add some more. If you want more glitter, go for it! You could also double this to make more and even add some coloring to make blue snow dough for water.
Time to Play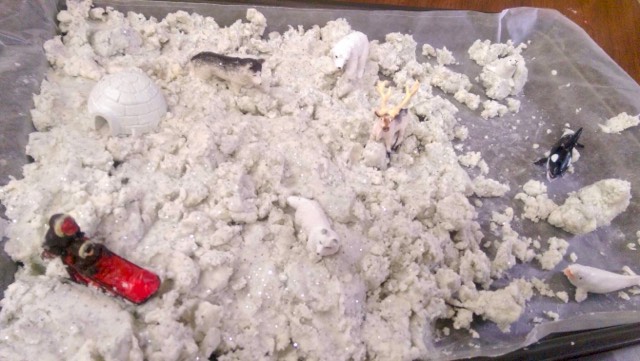 I laid out a cookie sheet, put on a piece of wax paper, and poured the dough onto that while they played, however, a plastic bin or almost anything would work for the playtime. To finish off the arctic play I made sure I had some arctic figures on hand. As we were studying Canada, I made sure to only include figures from the Northern region, however, you could include penguins (Antarctic region) and much more.
While I used this for a learning tool, this snow dough would be fun for a blah winter day or for those that live in regions where winter doesn't bring any snow.
This post has some affiliate links, read more about those here.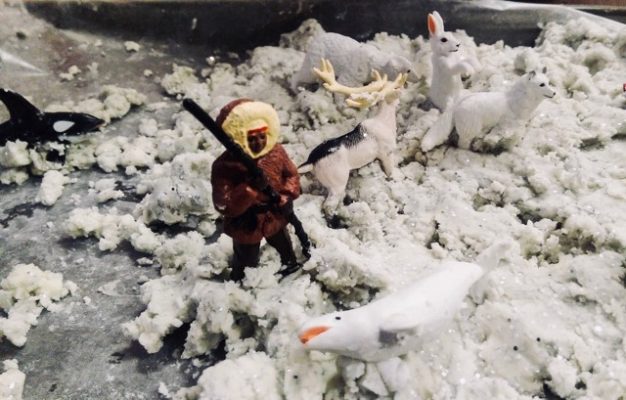 This stuff is fun! I love playing with it, my kids do too, and even my oldest still loves to get it out once in a while… sometimes even with a book that goes along with an animal he is playing with. 
To store it, just put it in an airtight container, I used a piece of corning ware, but almost anything would do… even a ziplock. 
Comment below to let me know what you thought of the snow dough and how your kiddos enjoyed it… and don't forget to stop by Facebook and Instagram and join our community!
BEM + Fam 🙂