Pumpkin Bourbon Cinnamon Rolls
Gooey and Yummy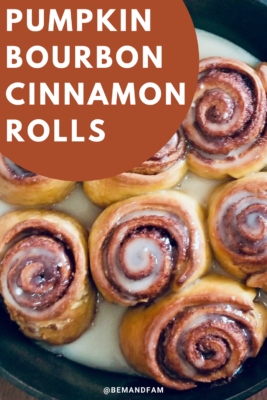 You will want to run, not walk, and make these delicious Pumpkin Bourbon Cinnamon Rolls. These are a delicious addition to the fall season…. or really any time you want to have a little extra in your life. 
There's a local Amish bakery that has good cinnamon rolls and sometimes we stop to grab a half dozen. Every time we do, I say to my hubby, "One day I am going to make these", but this ends up being in one thought and out the next, but one chill weekend, I decided to give cinnamon rolls a try. The Amish usually use mashed potatoes in theirs and being fall, and at the time, having lots of pie pumpkins… I decided to use pumpkin instead.
Making these takes a little bit of time because the dough rises twice. Mine took a bit longer because I used actual pumpkin vs canned, but using canned pumpkin would be fine. Overall, I loved making them, again, this isn't a last-minute breakfast, but if you have company or want a special Thanksgiving breakfast… these are perfect, in fact, my kids loved them!
Did Someone Say Bourbon
The roll dough doesn't have bourbon but the filling and glaze do. The glaze for these is a runny glaze vs a frosting, that you might find on some cinnamon rolls. You could omit the bourbon if you don't like it or don't have any… the recipe only calls for a little over a tablespoon, so either way… the rolls will be delicious.
This post has some affiliate links, read more about those here.
Time to Bake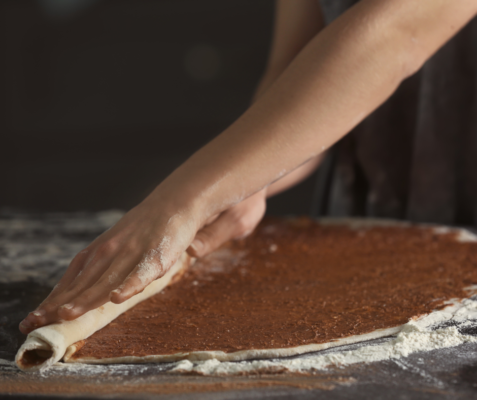 Having never made cinnamon rolls before, I was a bit nervous because rolling the dough to a 16×12 rectangle seemed daunting, but it got there fairly easily. After putting in the filling and rolling the dough up, I used unflavored dental floss to cut the rolls. After the last rise, I popped them in the oven for about 30 minutes, glazed them, let them rest, and then… served them. 
All in all… these were amazing, actually they were better than the Amish rolls! It is always awesome to try and make new things and I was happy that I tried them. I plan on making them at some point over Thanksgiving weekend.
What is your go to breakfast during Thanksgiving? Did you give these Pumpkin Cinnamon Rolls a try? I'd love to hear from you… comment below or head over to Facebook or Instagram and join the community!
Happy Baking!
BEM and Fam 🙂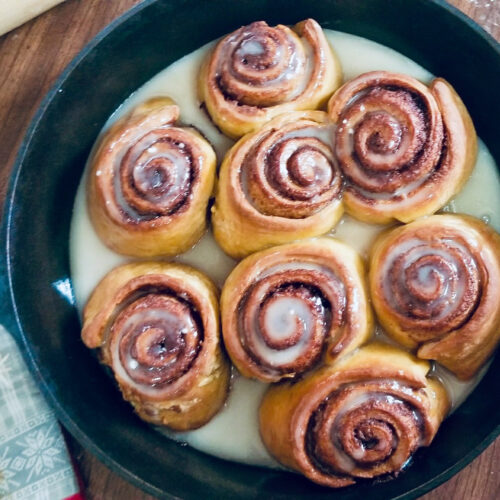 Pumpkin Bourbon Cinnamon
Keyword:
cinnamon rolls, harry potter, pumpkin, Thanksgiving
Ingredients
Dough
¼

cup

water

110-115 degrees F

2

tbsp

sugar

1

packet of active dry yeast

or 1 tbsp of yeast from a bigger container

2½

cups

all-purpose flour

1½

tsp

pumpkin pie spice

¾

cup

pumpkin

canned or freshly cooked

2

tbsp

butter

melted, I used salted, but unsalted is fine too
Filling
½

cup

butter

softened

½

cup

packed brown sugar

1

tbsp

cinnamon

1

tsp

bourbon

⅛

tsp

salt
Glaze
1½

cup

confectioners' sugar

3

tbsp

whole milk

1

tbsp

bourbon
Instructions
Dough
in a bowl, stir the water, sugar and yeast. Let it stand until it has bubbles or looks frothy, no longer than 5 minutes

mix flour, salt, and pumpkin pie spice, preferably with a paddle attachment and a stand mixer. Slowly add yeast mixture, pumpkin, and melted butter. Mix with the paddle attachment until it is just coming together and then switch to the dough hook. Beat dough at a medium speed for about 7 minutes

lightly oil a large bowl and place the dough inside. Cover and let rise in a warm place for about an hour, or until it has doubled in size.

once the dough has risen, grease a cast iron skillet.

roll the dough on a floured surface to a 16x12 rectangle
Filling
for the filling, combine ingredients, and spread the mixture onto the rolled out dough.

starting at one of the longer sides of the dough, roll the dough up like a poster and pinch closed once rolled

cut dough into about 2 inch sections. I used unflavored dental floss to saw the dough, but a knife will work

place the rolls into the skillet, cover and allow to rise for about 45 minutes to an hour
Cooking
preheat the oven to 350° F and bake for about 30-35 minutes

allow to cool for 10-15 minutes
Glaze
mix glaze ingredients together, drizzle over baked and cooled rolls. Serve and enjoy!