You'll Never Want Delivery Again!
My kids really love pizza, as many kids do, and so I thought it might be fun to make it at home one night and see how the family liked it. I set out to find the best pizza crust recipe and gave it a go!
Well, needless to say it was a success and I thought I would share the recipe and some of our creations, but I also wanted to share my experience of teaching my children how to make this recipe by themselves!
PS. This post has some affiliate links, read more about those here.
Teaching the Kiddos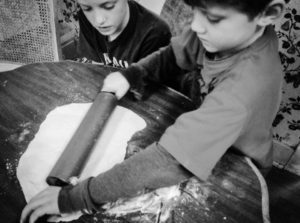 My goal is to raise  self-reliant children and so teaching them to cook is part of that. I thought starting with the pizza recipe would be a great place to start, as the recipe is fairly simple and in general, it really wasn't hard for the kids.
I started showing them how to measure the flour, using a knife to level the flour, the differences between tablespoons and teaspoons, and so on. The first time they watched me, the second time they each measured something, the third time they helped with the water temperature, and the fourth time they did it on their own, well I put the pizzas into the oven but they did the rest! 
Now if they want pizza my kids just ask if they can go make the crust for pizza, and they do it! I love that they can do this and they do too, it really gives them confidence.
Making Pizza At Home
As far as the crust goes… it is soooo good and totally worth trying! This recipe does require yeast, so water temperature is important, you don't want to kill the yeast, and it does need to rise, but it really only takes 5 minutes to put the ingredients together.
To bake the pizza, I use a pizza stone in our oven and a pizza spatula to transfer the pizza from the oven, however, using a circular baking sheet would work too.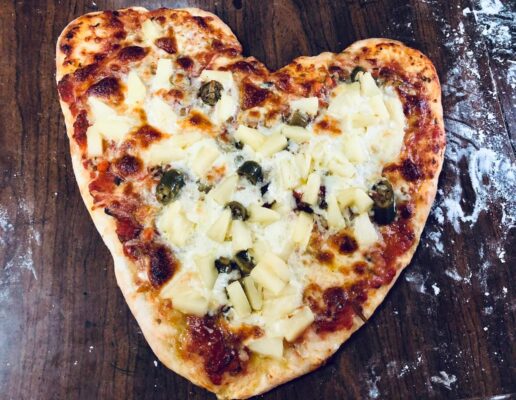 We've tried all different types of things on the pizza and each time it has come out very tasty. We've even shaped the pizza into different shapes, though the heart is the most requested!
You can see some of our combinations and tips below and in the "notes" section of the recipe… and don't forget the print option to keep this handy!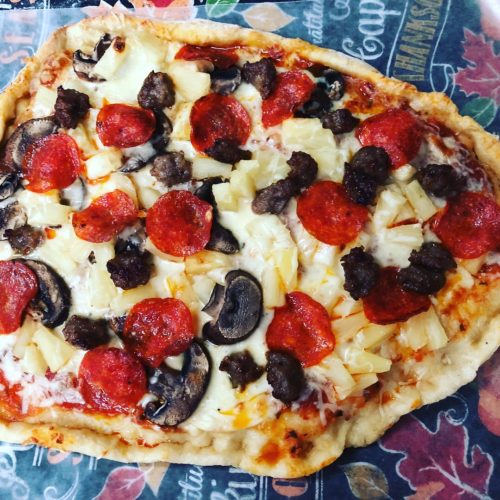 Best Pizza Crust Recipe
Cuisine:
American, Italian
Keyword:
easy, homemade, pizza
Ingredients
4

cups

all purpose flour

1

tsp

sugar

2

tsp

salt

1

packet

instant dry yeast

1 1/2

cups

110 degree water

2

Tbsp

olive oil

2

tsp

olive oil
Instructions
Mix the flour, sugar, yeast and salt in the bowl of a stand mixer and combine.

With the mixer running, add the water and 2 Tbsps of oil and mix until the dough forms into a ball. If the dough is sticky, add 1 Tbsp of flour, until the dough comes together. If the dough is too dry, add 1 Tbsp of water.

Scrape the dough onto a lightly floured surface and gently knead into a smooth, firm ball.

Grease a large bowl with the remaining 2 teaspoons olive oil, add the dough, cover the bowl with plastic wrap or lay a clean and dry dish towel over it, and put it in a warm area to let it double in size, this usually takes an hour.

Once it has risen, turn the dough out onto a lightly floured surface and divide it into 2 equal pieces. Cover each with a clean kitchen towel or plastic wrap and let them rest for 10 minutes. Don't skip this step! Preheat your oven to 475 degrees

After the dough has sat for 10 minutes, it is ready to shape into pizza. Use a rolling pin and roll out the dough. Add your sauce and toppings and place on a pizza pan or pizza stone. Cook for about 10 minutes or until the edges begin to brown and the pizza cheese is melted nicely!
Recipe Notes
We use our own homemade canned sauce (recipe coming)
One of our favorite pizzas has giardiniera on it and instead using our regular sauce, we use the giardiniera, and the oil it is packed in, as the base to the pizza. This makes a crispier and thinner pizza crust... it is yummy but can get spicy.
If you use sausage do NOT put it on the pizza when you put it in, put it on about half way through to make sure it doesn't burn, as the sausage is already cooked. Though you could try putting it under the cheese but make sure it gets covered. 
Another of our favorite pizzas is fresh mozzarella, basil, tomatoes, with a olive oil base (instead of sauce), and a light sprinkle of salt.
You can brush a little melted butter onto the crust half way through and right as the pizza comes out of the oven to add a little more to the crust.
Here are some of our recent pizzas…
How ever you like your pizza… I hope you enjoy this crust! Don't forget to comment below or head over to Instagram or Facebook and share with our community… tag me @bemandfam!
BEM + Fam 🙂