Easy Halloween DIY
So, I am writing this a bit after Halloween, but we had so much fun, even my then 13 year old boy LOVED this project, that I had to share. I noticed a few days before Halloween, I realized I hadn't really done much with the kids, well Halloween wise. Life gets busy and it seems harder and harder to fit in things like crafting… together. It popped into my mind to make some trick or treat bags. I've purchased cheap trick or treating bags before, the kids have carried the hard plastic pumpkins, and one year they carried grocery bags, but I have always wanted to have cool, fun Halloween treat bags for the kids.
There is something special about having your own Halloween treat bag, it's like having a Christmas stocking.  It is yours and it becomes a tradition item. You can purchase personalized treat bags, and though they are cute, they can get costly. So this year, I thought it would be fun to make our own bags.
I bought some canvas bags, felt, and we set at it. This is a great thing to do because it allows children, and adults, the ability to be creative… and though we made treat bags, this idea has so many possibilities!
What You'll Need
We bought cotton canvas bags, Halloween colored felt (though my kids used other colors too), glue, scissors, and cardboard. You could use other things like buttons, glitter pens, markers, paint, and really the sky is the limit.

This post has some affiliate links, read more about those here.
Making Your Creations
This is really where your mind can wonder and your kiddos can get creative. My kids and I all did bags, they used theirs for Halloween and I just did one for fun, but I love how they turned out. The bags are of course 2 sided, I made a spider on one side and on the other side, I did some traditional Halloween figures with some candy corn accents (which is pictured above). 
I didn't use any stencils for the figures but I decided to include some examples for anyone that wants to make a bag. You can download them here, but this is really something that you can also just free hand and have fun with. My kiddos had ideas, ran with them, and I think they turned out great.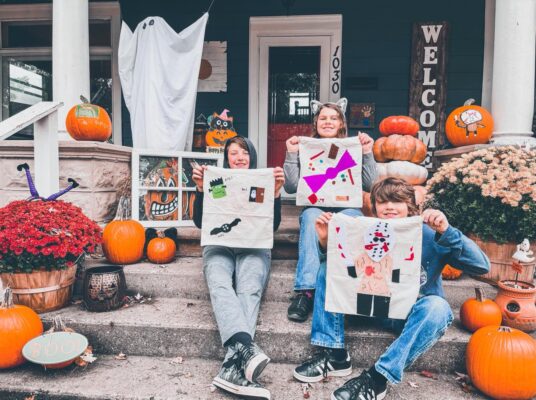 This picture cracks me up a bit because my youngest, who has never seen Friday the 13th, decided to not only make his bag with Jason on it, but he also painted his pumpkin that way.
You can see the Friday the 13th pumpkin behind the kids, on the right. The Jasons are so comical and cute, it is just hard not to laugh. Anyway, my daughter made candies all over her bag and my other son did some familiar Halloween figures. 
Quick Instructions
There are printable instructions below, however, I did want to mention quickly what we did. As mentioned, we used felt and cut out designs, you can draw on the felt with pencil and either cut the line off or turn over the felt. When gluing, we put a big piece of cardboard inside the bag to ensure we didn't glue the bag closed. I used hot glue, though general or tacky glue would work great too. I will also say, to ensure longevity you might want to go back and quick stitch the felt to the bags. This is a step I will take before I put them away for the year, or I might use it as a teaching moment for the kids, but sewing the figures on, will definitely make them last longer.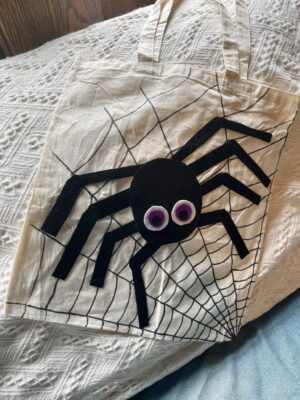 Other than that, it is pretty self explanatory, and honestly this could be done for any holiday, craft project, sleep over idea… you name it!
Check out the super quick video (like 40 seconds), of how I made a spiderweb and spider on the 2nd side of my bag, on my Pinterest page here. Also, don't forget to pin this idea for later!
I hope you have a wonderful Halloween and coming holiday season. For more Halloween ideas, head over to my Halloween page! Also, I'd love to hear from you, stop by Facebook and Instagram and join our community!
BEM + Fam 🙂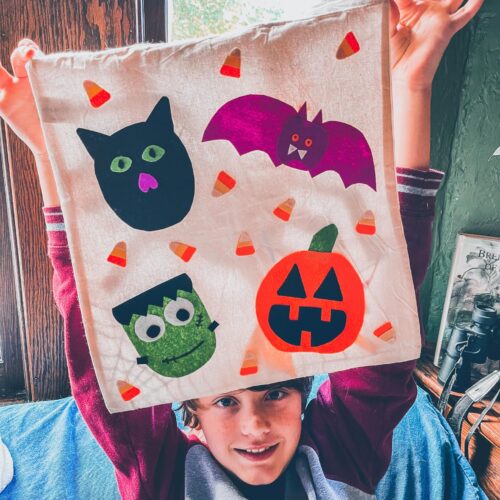 Halloween Trick or Treat Bags
Ingredients
1

bag

felt

Halloween colors

glue

1

piece

cardboard

large enough to put inside bag

scissors
Instructions
Draw and cut shapes from felt in various patterns. Use stencil, create one, or download the one I provided

Once elements are cut, glue them together

Place cardboard inside bag, then glue elements to bag

Allow glue to dry. Keep cardboard inside bag if using a marker or paint, making sure it doesn't bleed through to other side

Once glue is dry or any paint that might have been used, you can turn bag over and work on additional side
Recipe Notes
For longer lasting bags, use a quick stitch, in appropriate colored thread, around the edges of the elements, again ensuring not to stitch through the bag. This is optional.