Tap Into Your Inner Canadian!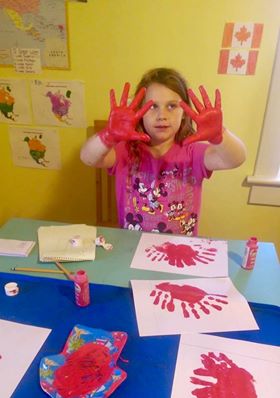 During our Canadian studies for school, we came across a list of Canadian foods, one was called Nanaimo Bars.
Nanaimo Bars are a no bake treat named after Nanaimo, British Columbia on Vancouver Island. They have 3 layers that consist of a coconut crumb base, a butter icing middle layer, and a chocolate ganache top layer. They apparently can be made without coconut (but why, lol) and the icing can be flavored to things like peanut butter, mint, mocha, and more!
There is a little controversy where these bars come from, some have even said that they were once called London Fog bars, but to Canadians, especially on the west coast, these are a staple dessert!
Anyway, the kids and I set out to make these and they were very easy, super rich, and incredibly addicting!

What You'll Need: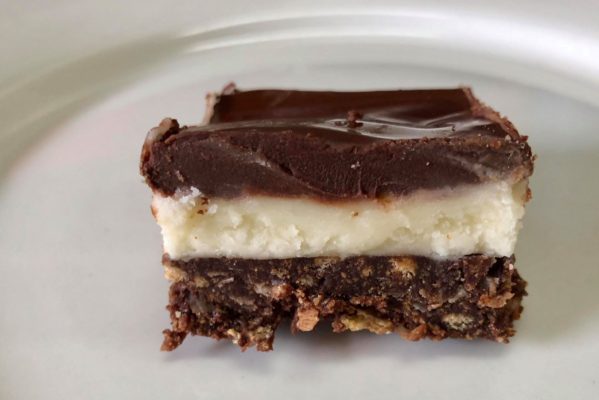 Butter, sugar, cocoa powder, graham crackers, an egg, shredded coconut, heavy cream, vanilla, powdered sugar, and baking chocolate. 
Did I mention these are sweet?
Though the above list might seem long and the three layers might seem intense, these are actually really easy… and because they are no-bake, they can be easy for little kids! We've made them for gatherings, cutting the squares smaller, and even for the holidays!
It's Fun When You Are In the Know
If you are a fan of Schitt's Creek, there is a scene when Jocelyn is bringing over a batch of these Nanaimo Bars to the Rose clan, my hubby and I were like… "we know what those are!" If you haven't watched Schitt's Creek… make a batch of these and binge it (after the kiddos are in bed)… you be glad you did both!
I will be adding more about our Canadian and other country studies… so check back.
If you make these please let me know what you thought! You can comment below or head over to Instagram or Facebook and share your pics… tag me @bemandfam!
Enjoy,
BEM and Fam 🙂
PS. This post has some affiliate links, read more about those here.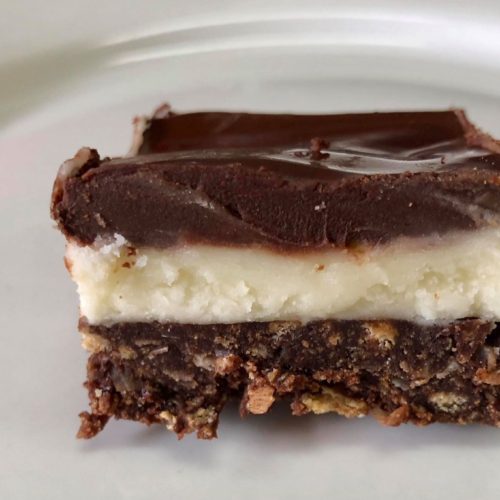 Nanaimo Bars
Ingredients
1.8

cups

Butter

2 sticks and 2 Tablespoons, softened

1/4

cut

white sugar

5

TBSP

Cocoa powder

unsweetened

1 3/4

cups

graham cracker crumbs

1

egg

beaten

1

cup

shredded coconut

3

TBSP

Heavy Whipping Cream

2

TBSP

corn starch

1

tsp

vanilla

2

cups

powdered sugar

4

oz

baking chocolate

semisweet
Instructions
First Layer
Combine 1/2 cup butter, white sugar, and cocoa powder in a pot and on low, melting the butter and ingredients together. Stir occasionally until melted and smooth.

Beat in the already beaten egg until smooth. Stir for 2-3 minutes.

Take off the heat and mix in the graham crackers and coconut.

Press the mixture into the bottom of an ungreased 8x8 pan. Set aside and move onto the Second Layer!
Second Layer
Cream together 1/2 cup butter, heavy cream, cornstarch, and vanilla until light and fluffy. Mix in the powdered sugar until smooth.

Spread over the first layer in the pan. Chill to set.
Third Layer
While the second layer is chilling, melt the semisweet chocolate and 2 teaspoons butter together over low heat.

Spread over the chilled bars.

Let the chocolate set before cutting into squares.
Recipe Notes
The second layer is supposed to be a custard flavor and often many people don't have custard powder at their fingertips. Some people will substitute with vanilla pudding, but I like the cornstarch and vanilla approach better, it helps fluff up the icing!