The Best Peanut Butter Cookies… Ever
Trying These Is A Must… Seriously
Everyone has had peanut butter cookies, some are better than others… but these my friends… they are the best!
After playing with a couple of recipes, I have found something I love and I would say they are fairly easy to make. Some might call these a little nontraditional, as they are a cookie "sandwich" and there is a bit of oatmeal, but it is only for texture, not taste. I made these the other night and they were a HUGE hit, in fact, my hubby said these were probably the best cookies he's ever had, peanut butter or no peanut butter. 
PS. This post has some affiliate links, read more about those here. 
What You'll Need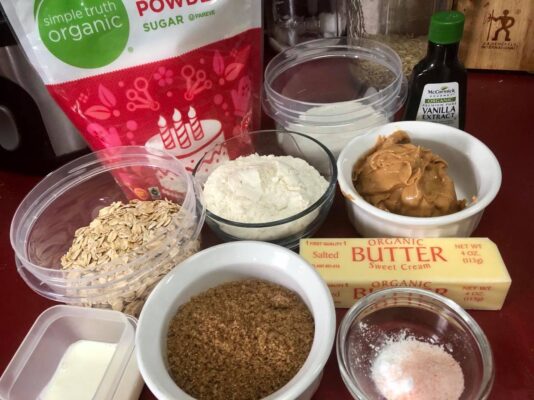 I would bet that you currently have all of these ingredients as they are basic staples. You'll need flour, baking soda, baking powder, salt, sugar, brown sugar, quick oats, an egg (which got left out of the pic), vanilla, butter, peanut butter, confectioners sugar, and cream.
Let's Get Started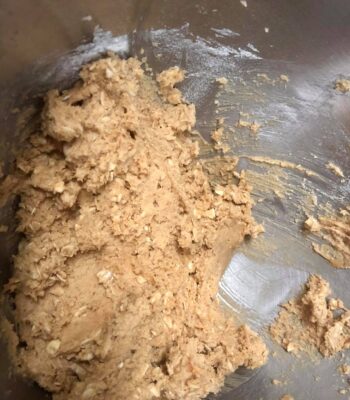 As I said, these are sandwich cookies, so there is the cookie and the filling… some of the ingredients are in both.
Start by preheating your oven to 350 degrees. To make the cookies, cream the peanut butter and butter, adding the white sugar, brown sugar, vanilla, and egg.
Next, add the flour, baking powder, baking soda, and salt… mix. Then mix in the oats. This is your cookie mixture. Dish out about teaspoon sized ball onto a greased cookie sheet, press down slowly with a fork, and then bake for 10-12 minutes.
While they are baking, you are going to cream together the confectioners sugar, butter, peanut butter, and heavy cream to make the filling. Once the cookies are done, allow them to cook on a cooling rack and then spread filling on the bottom of one cookie, pressing against another, to make a sandwich.
Enjoy!
I think that you will like LOVE these cookies. They do have oatmeal but they do NOT taste like oatmeal cookies. These are not healthy given the amount of sugar that is present, but there are times that sugar is needed and that is the balance of life.
You could use Swerve (you'd need the trio to the left) for a less sugar loaded option, however, sugar substitutes have their own issues… sometimes the texture is off… but if you do make them… I'd love to hear how they turn out!
Also, I would go out on a limb and say that any nut butter would work. What I might do is give a modified recipe a try with nondairy creamer, sugar substitute, and a nut butter, like almond butter… and see what the outcome is. When I do… I will link it here.
These would also be a great treat on Peanut Day, which is September 13th, but seriously… they are good any day. My hubby wanted to make me a cake for my birthday this year and instead, I asked for these! Comment below and tell me how yours turned out or head to Instagram or Facebook and share with us your successes (or fails)… tag me @bemandfam!
Stay Sweet!
BEM + Fam 🙂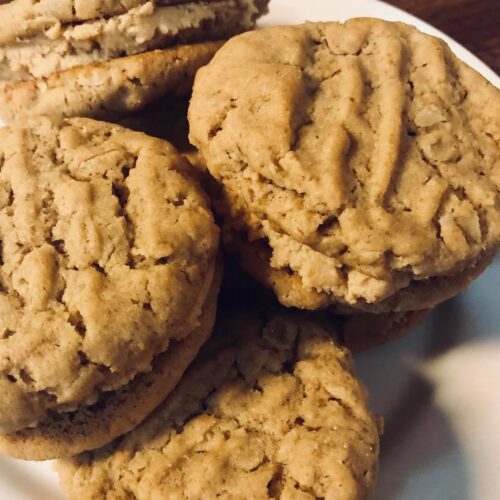 Peanut Butter Sandwich Cookies
Servings
:
12
sandwich cookies
Ingredients
Cookie
1/2

cup

butter

softened

1/2

cup

peanut butter

any kind will work but I would consider one with little to no sugar as this recipe has quite a bit of sugar

1/2

cup

white sugar

1/2

cup

brown sugar

packed

1

tsp

vanilla

1

egg

3/4

cup

flour

1/2

tsp

baking soda

1/4

tsp

baking powder

1/2

tsp

salt

1

cup

oats

quick oats will work best
Filling
1

cup

confectioners sugar

3

tbsp

butter

softened

1/2

cup

peanut butter

2.5

tbsp

heavy whipping cream
Instructions
Cookie
Preheat oven to 350 degrees

Cream together softened butter, peanut butter, white and brown sugars, and vanilla

Add the egg and mix thoroughly

Add the flour, baking powder, salt, and baking soda together and then pour in the creamed mixture and mix thoroughly

Use a teaspoon to measure out dough and place on greased cookie sheet

Place 12 cookies on a sheet and used fork to lightly flatten, leaving the traditional peanut butter markings on cookie.

Bake in oven for 10-12 minutes and let cool on wire rack
Filling
Cream together butter, confectioners sugar, peanut butter, and heavy cream

Sit aside until cookies are baked and cooled
Making Sandwich Cookies
Once cookies are cooled, use a knife to spread filling on bottom side of one cooking, then press the bottom of another cookie onto the filling... making a sandwich
Recipe Notes
The cookies would be great without filling and the filling could go on a single cookie instead of making a sandwich.