Easy Crustless Quiche
So… quiche is amazing, well those that get technical might not call this quiche because it is crustless, they'd say frittata, but either way… it is delicious! I actually prefer "quiche" without crust, crustless quiche is great for those on low or no carb diets, but I just prefer it, and here is an easy quiche recipe.
Choose Your Size
In the picture above, I used a mini cupcake tin to make them bite sized, these are great for kids that might not eat eggs normally or for those doing Keto in need of more fat and protein. You can also make these in traditional muffin tins for a more "main course" size and to make a whole quiche, just prep your pie dish and pour the mixture in. It will be done when the middle doesn't shake. 
PS. This post has some affiliate links, read more about those here.
Adjust the Recipe to Your Taste
You can fiddle with the veg ratio and the cheese/sour cream ratio a bit, but this is a great base for making crustless quiche. Each time you can change the veggies and cheese you will create something different. It also freezes well too, you just pop them out of the tins, freeze them individually, and then put them into a storage container. This is good for those growing kids, like mine. Parents are torn between wanting healthy and easy… and this easy crustless quiche fits those description.
All in all… this crustless quiche is a staple in my home and I hope you love them too! If you make this don't forget to comment below or head over to Instagram or Facebook and share with our community… tag me @bemandfam!
Have a delicious day!
BEM + Fam 🙂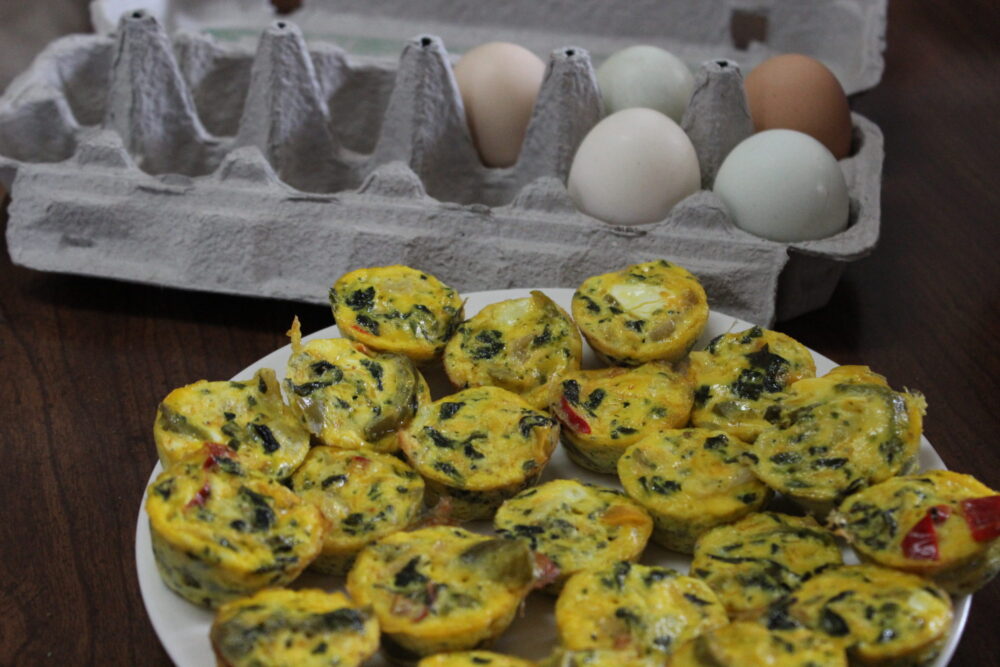 Easy Quiche Recipe
Course:
Breakfast, Brunch
Ingredients
6

eggs

1

cup

sour cream

1

cup

shredded cheese

any cheese, I used cheddar and I actually shredded it myself to save a little extra money

10-12

oz

frozen spinach

I haven't tried fresh but I am sure it could be used

1.5-2

cups

veggies

mushrooms, peppers, onions...

dash

salt and pepper
Instructions
Crack eggs and mix until a little fluffy

Add in sour cream, cheese, and salt and pepper... mix

Fold in the spinach and veggies, stir together

Spoon mixture into lightly oiled or greased muffin tin or pour into oiled or greased pie dish. Bake between 40-45 minutes for pie dish, 35-40 minutes for the muffin tin, and if you use the mini muffin tins... start checking around 25 minutes. The time can vary depending on amount of veggies and ovens also vary.