Beautiful and Edible Easter Eggs
With Easter comes tons of boiled eggs and probably some deviled eggs too. Most of us have a favorite deviled egg recipe (I have a basic one below) but to pump up the Easter table a bit (and those deviled eggs)… give your Easter deviled eggs some color!
The Easter Egg Hunt Was Fun… Now What?
My kids have outgrown the traditional Easter egg hunt, though we have upgraded our Easter festivities a bit, but I still remember all those chilly mornings… hiding eggs, acting surprised when the kiddos found them… sometimes wondering if I could just hand my kids a bag of candy and be done.
But seriously… some of the memories, they are priceless and the kids were always so happy to find just about anything! It's funny to be so happy about finding a hard boiled egg, sure candy eggs and money eggs are great… but my kids would beam at finding regular eggs. It's a great lesson to us all, I suppose. 
Anyway, after the kids would find all of the eggs, it became time to make something of them.

Making Easter Deviled Eggs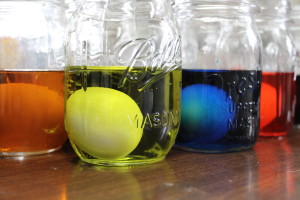 There are few things to do with boiled eggs… eat them as they are, make egg salad, make a cob salad, and make deviled eggs… well, there may be more things to do with them, but I am not super creative when it comes to boiled eggs.
We use our Easter eggs and make deviled eggs. One year I had left eggs dying overnight in the solution, to see how they would turn out, and though… why not dye the deviled eggs!
To do this… carefully crack the eggs and remove the shells, rinse the eggs, and cut them in half to remove the yolk. Then, place an egg halves in a jar or cup of dye and monitor them for color saturation.
I will say that adding food dye to food or food dyes in general, is something I don't usually recommend, however, occasionally and especially around the holidays, I believe making things festive like this, adds to the magic. I have since used organic and plant based dyes, but that first year I didn't. Check out these organic food colors.
Once the eggs are dyed, set them out and allow them to dry for a few minutes and continue making your deviled egg recipe.
PS. This post has some affiliate links, read more about those here.


Is This Safe?
Some may not think that using Easter eggs for deviled eggs is safe, but if eggs are refrigerated, handled carefully and not left outside long… using these eggs are fine. Remember that using clean, boiled eggs allows you to reuse the dye and the vinegar does not change or hurt the taste of the eggs, as many people even add it to their deviled egg recipe.
Don't Forget Spring Brunches
These will bring a smile to your guest's faces and might allow little ones to give them a try. These could be brought to any spring brunch or baby shower… and the green ones make great green eggs for a Dr. Seuss party! Making these for a Mother's Day brunch would definitely impress!
To have even MORE fun… pair these with my Easter Angeled Eggs!
Don't forget to comment below or head over to Instagram or Facebook and share with our community… tag me @bemandfam!
BEM and Fam 🙂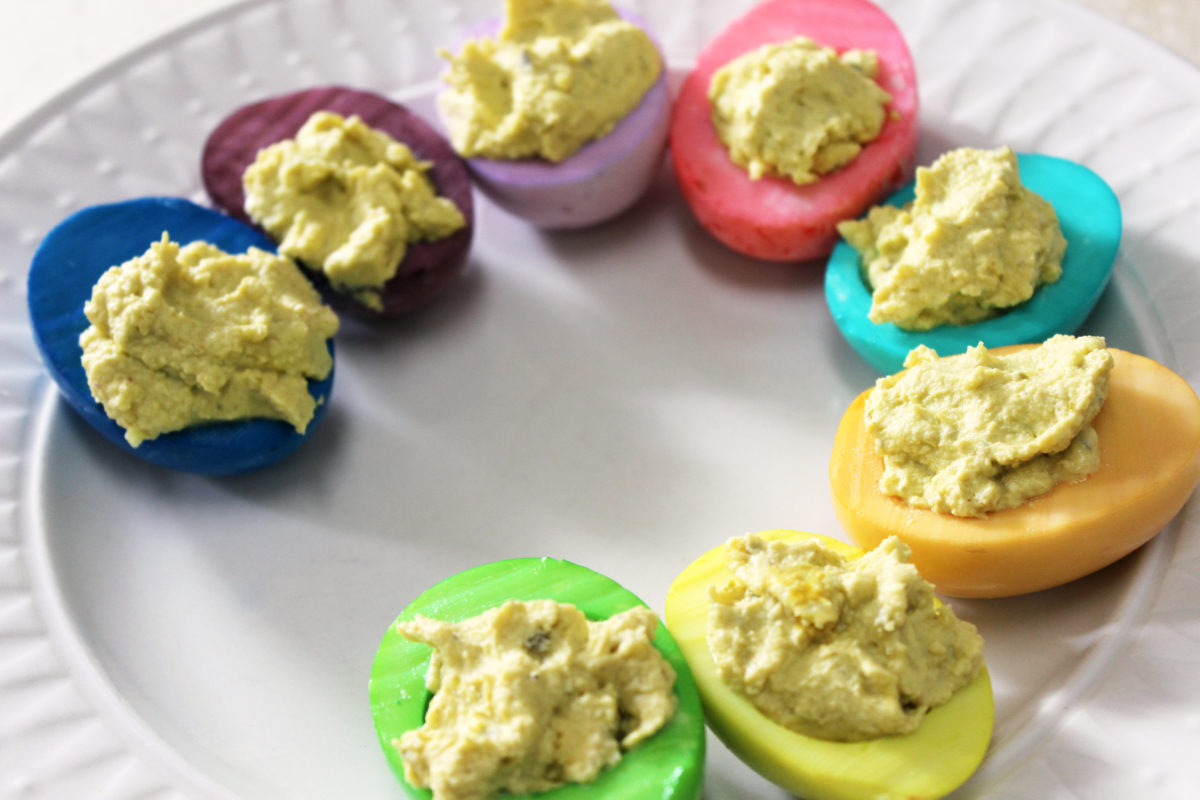 Easter Deviled Eggs
This is a basic deviled egg recipe that can be used at any time, but the colors to the eggs had interest for brunch... or just anytime!
Course:
Appetizer, Brunch, Side Dish
Keyword:
Easter, easy, Kid approved, Mother's Day, spring
Servings
:
12
2 deviled eggs a serving
Ingredients
To Make Eggs
1

dozen eggs

2

tsp

Dijon Mustard

1

tsp

Tabasco

or other hot sauce of choice, more could be added to taste or totally omitted

½

tsp

pepper

1

dash

salt

6

TBSP

Mayo

chives and paprika

for garnish and optional
To Color Eggs
food dye

of choosing and prepared per instructions (might need vinegar)
Instructions
Rinse eggs with warm water, and place in a small saucepan. Cover with cold water, place the pan over medium-high heat and bring to a boil. 

Turn off heat, cover and let sit for 10-12 minutes. 

Drain, rinse under cold water and peel. Cool in the refrigerator, loosely covered, for 15 minutes.

Halve eggs lengthwise, carefully scoop out yolks, and place yolks in a bowl.

Take white egg portions and place in the dye colors. Allow to sit for a few minutes or until you are satisfied with color. Remove and allow to dry on paper towel.

Mash yolks with a fork. Add mustard, Tabasco, salt, pepper and snipped chives (optional). Stir in mayonnaise.

Fill each egg white with about 1 1/2 teaspoons of the egg-yolk mixture and dust the top with paprika if using.

Arrange on a platter and garnish with whole chives, if using.