Homemade Valentines for Valentine's Day
Cute and Perfect for All Ages!
As homeschoolers, we haven't had the need to make valentines on a huge scale before. We've made a few, but we haven't needed to make a classroom full. Last year we joined a homeschool co-op, where we meet once a week and do extra curricular classes… survival class, photography, pencil drawing class, and so on… well when February rolled around, we suddenly needed to have over 50 valentines!
I have nothing against store bought valentines but I wanted to make homemade valentines for Valentine's Day, and so I tried to think of something EASY, cute, and useful… that is when I thought of bookmarks!
We all need more bookmarks!
So, we set out to make bookmarks for everyone in our co-op. Honestly, this whole project was EASY and the kids loved it. They were able to personalize the homemade valentines for each child, but you could just make one design for everyone, making the project even easier!
Making the Bookmarks

 Supplies
I just used what we had on hand…
Construction Paper

Stickers, we also cut out hearts

Yarn, though you could use ribbon

Markers or crayons

Glue stick

Hole Punch

scissors

Laminator – this is optional
PS. This post has some affiliate links, read more about those here.
Instructions
   1. After gathering your supplies, cut or have your child cut, strips of different colored paper. Also, cut out hearts and other shapes that you want to include on the bookmarks.
   2. Then have your child glue the hearts and attach any stickers that they may want to use. I think stickers are cool if your child is personalizing the bookmark  or if your child is apprehensive adding hearts for one of many reasons. Next punch a hole in the top. Then have your draw, color, or write on the bookmarks how they see fit. This could just say a child's name or Happy Valentine's Day or perhaps a quote, for older children.
   3.This is the step I used a laminator. I LOVE my laminator, it's seen better days but I have had it forever. I actually purchased one prior to having children. Not everyone has one, but I have used it so often that having it has really come in handy. They start very reasonably at around $20 and the laminating sheets are usually found at any big box store. I would say that if you don't have one, let this be your excuse to get one!
Above I said that the laminator was optional, and it is, you can do this without one, but to not have the bookmarks protected… probably means that they won't last.
I just put the bookmarks in the laminator sheets and sent them through. Then I cut them out and used the holepunch to again punch the previous holes.
   4. Next, I helped the kids cut some yarn and showed them how to tie them through the hole, basically tying a knot. That was pretty much it!
Great for All Ages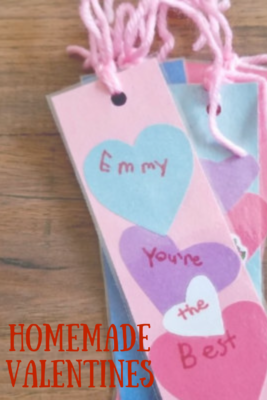 I like these homemade valentines because they aren't just candy (though we all can use some candy now and again) and because they can be reused. In my opinion, these are also a great idea for tweens and teens, and maybe not just for Valentine's Day, maybe as just a special gift. These really could be special by tearing out quotes from magazines or drawing something really personal on them. Honestly, the sky is the limit.
I hope this sparks some imagination and I would love to see some of your Valentine's Day creations, so don't forget to comment below or head over to Instagram or Facebook and share with our community… tag me @bemandfam!
Have a sweet day!
BEM + Fam 🙂