Easy Fajitas and Kid Approved
A Dish for Even the Busiest of Nights
We've all been there… busy nights, late baseball games, and not sure what to do for dinner, well these easy fajitas are a lifesaver!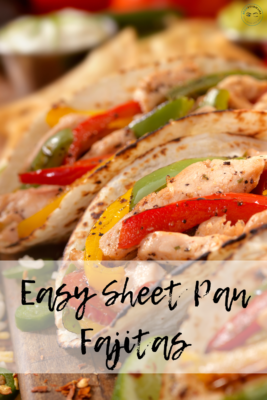 My family and I love to go out to Mexican food! At least one of us always order Fajitas but eating out isn't an option for every meal, and so we tried to make them at home. We wanted an easy option and so we opted for a sheet pan version. Now, we make them all the time, even on the super busy nights… they just are a family favorite. 
These easy Fajitas take virtually no time, one pan makes clean up easier, and they don't take many ingredients… basically some spices, meat, onions, and peppers… if you're a vegetarian, you can omit the meat and add more veggies!
I've made these as part of my meal prep, making them even easier on busy nights. If you know that Wednesday will be a busy night, on Monday, precut the veggies and meat (store separately), then it is as simple as preheating the oven, dumping the meat and veggies on a pan, and stirring in the spices!
These easy fajitas can be made with chicken, steak, shrimp, a mix of all three, or even vegetarian, like I mentioned above. The only dish in my rotation now that my family might like more, and I say might because they really love these, is our Shrimp Bake… which is amazing too… it's a toss, so try them both!
Ingredients
I'm going to include a print out version of the recipe below… because you are going to want to make these, but here's what you'll need…
spices (salt, pepper, chili powder, cumin, paprika, and coriander)

1 1/2 – 2 pounds of meat

veggies [onions, bell peppers, a lime or 2, and cilantro (optional)]

olive oil and minced garlic

chips, tortillas or leaf lettuce to eat it all with, I've tried them all!

optional… sour cream and guacamole
Getting Started
Preheat your oven to 400 degrees and grab a cookie sheet. Put foil on your cookie sheet and set aside, this is going to make clean up even easier. Then, mix spices together into small bowl and set aside. Next, start cutting your veggies into strips. Once done put the veggies onto the foil lined cookie sheet. Then, cut your chicken or steak into thin strips, if using shrimp go to next step.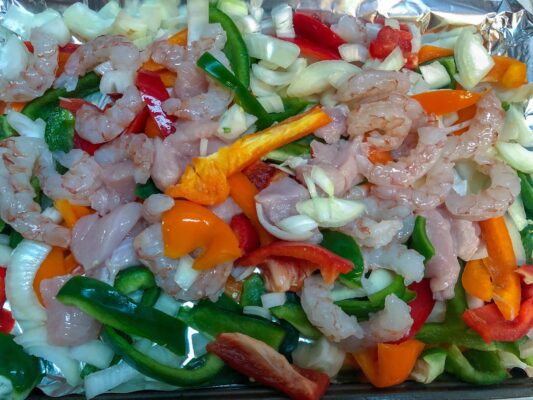 Once done put the meat on top of the veggies. Sprinkle the garlic on the veggie and meat, followed by the spice mixture. Then pour on the oil evenly and carefully mix it all together… side note… if you wanted to mix it all in a bowl and pour onto sheet pan, that is an option too.

Put the fajitas in the oven and bake. While baking, cut up cilantro and limes for serving… warm the tortillas, if using them… or you could wrap everything up lettuce leaf for a low carb version (like above)! Lastly, enjoy!
Leftovers
We don't usually have leftovers, there are 6 of us and 4 are growing kids, so I add a little more to the pan so I can have leftovers (for myself) for the next lunch or two! Even with adding more veggies and maybe a couple extra ounces of meat, and NOT adding more spices… these make great leftovers for lunch. Sometimes, I add them to lettuce to make a quick salad or pair with rice for quick lunches.
I hope you love these… let me know what you think and leave me a comment below or head over to Instagram or Facebook and share with us your successes (or fails)… tag me @bemandfam!!
BEM and Fam 🙂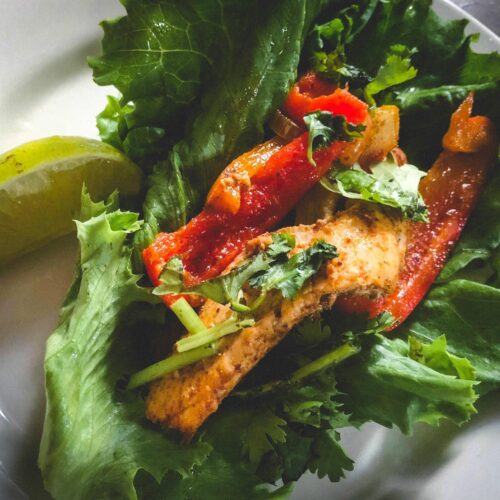 Easy Fajitas
Keyword:
easy, fajitas, sheet pan
Ingredients
Spices
2

tsp

Chili Powder

1 1/2

tsp

Ground Cumin

1

tsp

Paprika

1/2

tsp

Coriander

Salt

Pepper
Fajitas
3-4

Bell Peppers

I usually add one of each color (red, yellow, orange, and green)

1 1/2 - 2

pounds

Meat

Shrimp, steak, chicken, or mix

1

Onion

either yellow or red, I've used both

1/4

tsp

Minced Garlic

or 2 cloves freshly minced

3

Tbsp

Olive Oil

if using steak, could probably just do 2 Tbsp
To Serve
Limes

half to squeeze and some to serve

half

bunch

Cilantro

we love cilantro, this is optional and you can use less

Chips ,Tortillas, or lettuce leaf

chips make a crunchy addition and the lettuce makes it low carb

toppings

sour cream, shredded cheese, guacamole, salsa...
Instructions
Preheat the oven to 400 degrees. Mix the spices into a small bowl and set aside. Add foil to a sheet pan or cookie sheet.

Cut veggies and meat into strips. Add to the pan.

Add garlic, spice mixture, and olive oil to veggies and meat. Mix thoroughly.

Bake in the oven for for 20-25 minutes. While baking, chop the cilantro and limes. Get tortillas, chips, sour cream, or any other companions ready.

Once baked sprinkle the sheet pan with cilantro and squeeze lime. Mix well. Serve warm..
PS. This post has some affiliate links, read more about those here.