Happy Groundhog Day
It seems almost every very year, someone mentions how ridiculous Groundhog Day is, but I personally like it. Groundhog Day may seem like a crazy holiday to celebrate and trust me we don't go crazy, I mean it is a day about a rodent predicting the weather, but I like to have fun with my family and any time I can squeeze a little of that in, I try.
A Reason to Celebrate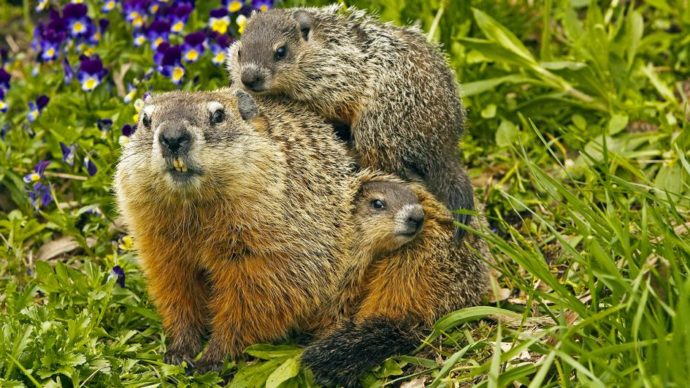 I think groundhogs are cute and there is something about the ritual, the hoping that spring will come quicker. It is a little "holiday" that can be celebrated and that can brighten a grey winter day, without the isles of Walmart being filled with junk for it, unlike almost every other holiday. It is OK to take something silly and have fun just for fun's sake.
Not to mention, that my husband and I always watch Groundhog Day, one of our favorites, because who doesn't like Bill Murray or a movie about a senseless jerk who finds his way, and it's funny. So, to you naysayers, try having a little fun, for the fun of it… and I hope that some of what we do, again nothing elaborate, will inspire you!
Here is a little Groundhog Day fun for kids of all ages… and adults too!

A Grubby Snack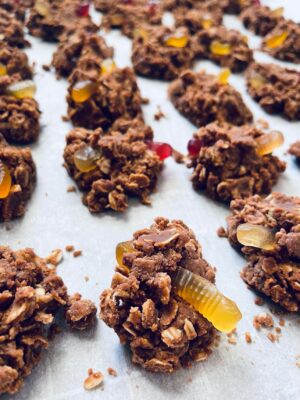 Our family ALWAYS makes Groundhog Grub! As groundhogs forage the dirt for grubs, we make sweets that match! The kids love helping in the kitchen and as we eat these cookies ONLY on Groundhog day, we really enjoy them… plus they are super easy! 
These cookie might not look like award winning treats, but they are tasty and are no-bake cookie options that are super easy to adapt to various diets and allergies! 
Grab the recipe below!
Read a Fun Story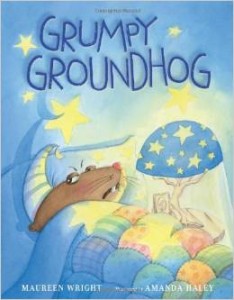 My kids really like the book Grumpy Groundhog, so we read that every year, in fact, it is a book that sits out all year and while not a timeless piece of literature, it is quite cute. Below is a video of me reading it with my kiddos!
Believe it or not there are several groundhog books to choose from, even a few about Groundhog Day. You can always head to search the latest list here on Amazon!
More Groundhog Fun
In the day of the internet, my kids want to see videos of whatever subject we are discussing, this video is a quick little intro to groundhogs, at only a couple minutes, and it has a bit about the holiday too.
After watching the video, have some drawing!
Time to Learn
So, as a homeschool mom I am always trying to find or add some learning into everything. Groundhog Day is a great way to learn more about mammals, weather and seasons, and even geography!
I created a printable packet available for instant download from Etsy! It includes a lesson and several activities (including access to an online private game, crossword, writing prompts, craft, and more!), 
It is an inexpensive way to add some extra fun at home, in the classroom, or during your homeschooling day! All sales help our Little Library!

Movie Time
As I mentioned above, the one thing that my husband and I do without fail, and maybe the kids will too as they get older, is watch the movie Groundhog Day, which on any day is an awesome movie, but this day gives us an excuse to sit and watch it, of course enjoying some Groundhog Grub, we managed to hide from the kiddos!
And that's that! I hope you have an awesome Groundhog Day! Don't forget to check out these 9 Fun Facts About Groundhog Day… and here is hoping for an early Spring!
BEM + Fam 🙂
PS. This post has some affiliate links, read more about those here.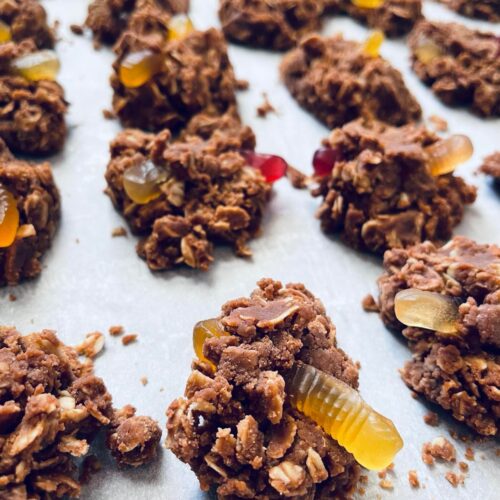 Groundhog Grub
Fun treat for Groundhog Day or anytime!
Keyword:
cookies, groundhog day, no bake
Ingredients
2

cups

sugar

4

Tbsp

cocoa

1

stick

butter

1/2

cup

milk

1

cup

peanut butter

1

Tbsp

vanilla

3

cups

oatmeal

20+

gummy worms
Instructions
In a heavy saucepan bring to a boil ON MEDIUM HEAT sugar, cocoa, butter, and milk. Stir often. Let boil for 60-90 seconds. 

Once boiled. take off heat and add peanut butter, vanilla, and oatmeal. Stir well.

Drop mixture, by the spoonful, on wax paper and push in a gummy worm. Allow to cool.
Recipe Notes
It is important that the instructions are followed. The mixture needs to be brought to a boil for 60-90 seconds or it will not have the right consistency. 
I made this once for a coop party for several kids and there were several allergies. Many were gluten free, some were dairy intolerant but could handle butter, there was a peanut allergy, and many were dye free. I started by using dye-free, organic gummy worms (like Black Forest) and use these every time I make them for our family. However, for the allergies I used gluten-free oats, another nut butter, and coconut milk. The only things I haven't really substituted are the butter and sugar. Perhaps something like Monk Fruit in the Raw and coconut oil might work. If you do try these, let me know how they turn out!